Lake View Estates
Located in the center of Treasure Island next to the Teleporter, Terminals, Mansion and Bar the Lake View Estates are set on large plots of land which offer excellent views of the lake and surrounding area.
These stylish estates offer ample space for decoration and entertainment with extensive lawns which are ideal for the placement of shopkeepers and external decorations.
The Lake View estates were the first to be built on Treasure Island and remain amongst the largest on the planet.
See the following sections for further details:
Area Map - Map of the Lake View Community Area.
Estate Details - Owners and links to individual estate information pages.
Estate Design - Describes the design of these estates, their floor plan and images of the interior.
Area Map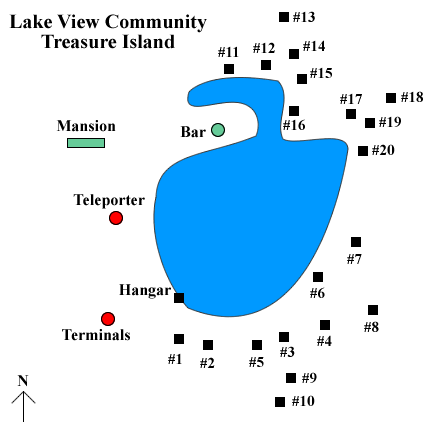 Estate Owners
Lake View #1 is owned by Aziphirael from Sterling & Moss Associates.
Lake View #2 is owned by Trixie and Stroker.
Lake View #3 is owned by Copern from PAC.
Lake View #4 is owned by Daz Daz Di.
Lake View #5 is owned by Mirewen Mir Asham.
Lake View #6 is owned by Ibison.
Lake View #7 is owned by Auktuma.
Lake View #8 is owned by Lord Machin.
Lake View #9 is owned by Gekke from VersaCorp.
Lake View #10 is owned by Gekke from VersaCorp.
Lake View #11 is owned by Great Optima Dane.
Lake View #12 is owned by Whiz from Desert Rangers.
Lake View #13 is owned by Dejay dj Nicholas and is the Old Freelancers Inc. HQ.
Lake View #14 is owned by Tarquin Professor Frobisher.
Lake View #15 is owned by Orion Waywalker.
Lake View #16 is owned by Samuel Charles.
Lake View #17 is owned by Jacko.
Lake View #18 is owned by Madge Mags Moran.
Lake View #19 is owned by The Witch.
Lake View #20 is owned by Wilfred Kane.